Case Study: Alotech completes rebuild of Humanitarian De-Mining Equipment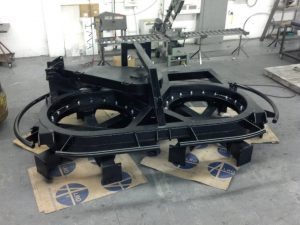 Alotech has completed the rebuild of a large Humanitarian De-Mining Device. The scope of work involved manufacturing two new rotary "combs" each designed to carry six plow blades to unearth anti-personnel mines.
More than 75 countries are affected to some degree by landmines and/or unexploded ordnance. More than 350 different types of antipersonnel mines exist. Although millions of mines have been removed, landmines still injure or kill about 15,000 to 20,000 people every year. Alotech is proud to provide contract manufacturing services as part of this humanitarian program.