Caterpillar Youth Apprentice Program – Welding
Jimmy Kirik, the son of Alotech's production manager Rich Kirik, was featured in a recent front-page Sanford Herald article. Jimmy is a local high school senior and a pioneer in the two-year Caterpillar Youth Apprentice Program in welding. At the conclusion of this course, Jimmy will have earned a high school diploma, Basic Welding Certificate, OSHA Safety Card and Career Readiness Credential from CCCC and a NCDOL certificate for completion of the apprentice program.
Caterpillar Welding
"The Caterpillar Youth Apprentice Program in welding is one of the great success stories of educating America's young people in the skills of 21st century high-tech manufacturing.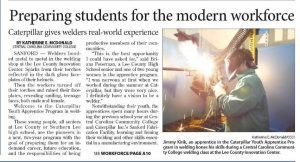 " said Bud Merchant, president of Central Carolina Community College.
Jimmy plans to combine his work experience with university studies to follow in his dad's footsteps as a mechanical engineer.