RESOURCES FOR INVENTORS: Building a Team for Success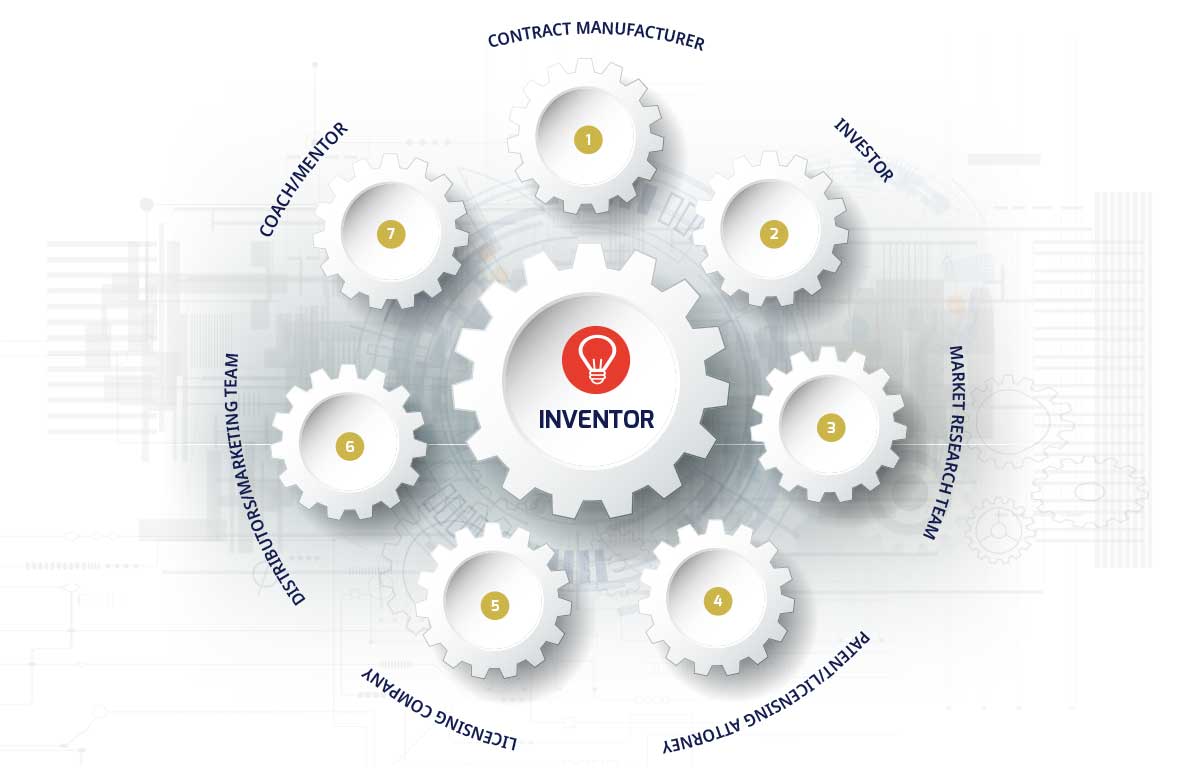 American culture is replete with countless stories of inventors who dreamed up new products and made handsome fortunes. In reality, most inventions do not meet with commercial success—even if they are potentially great products. Carrying a product from concept to prototype to mass production is an infinitely complex process, fraught with difficulties and challenges at every stage. An invention is a business, and like any other commercial enterprise, finding resources for inventors is a key – an invention requires building a team effort.
Here is a breakdown of the essential roles on a winning team for any new technology or product. We have also listed some of our trusted partners, whom we highly recommend as resources for inventors looking for assistance in any of these areas.
Coach or Mentor
The shortest path to success is to follow in the footsteps of someone who has "been there and done it." Many inventors fail simply because they try to figure out the whole process on their own, without the guidance of a seasoned veteran. It is important to find a mentor who has experience in the right areas. Many successful entrepreneurs will attest that they have relied on different mentors over the years.
Verne Harnish is an author and speaker and the CEO of Gazelles, an international coaching company with over 180 partners on six continents. Verne has spent the last three decades helping businesses scale up.
EntreDot is a fantastic resource for any inventor looking for a mentor, with a rich pool of successful entrepreneurs available to share their experience with new business owners. EntreDot is a non-profit that offers a variety of free and low cost programs for businesses at all stages.
Randy Nelson is a business coach, author and speaker who served as a Lieutenant in the U.S. Navy prior to co-founding two highly successful companies. Randy coaches executives in the area of executive leadership.
Vistage is a coaching company that facilitates peer advisory groups. Business owners and CEOs can benefit from the shared experience of their peers who are facing similar challenges, under the expert guidance of a trained facilitator.
Marketing
Marketing and distribution are integral to any product, and independent market research is essential for commercial success. It is crucial to examine factors such as pricing, competition and cost of production to determine if a product will be viable in the marketplace. In addition, a successful product launch requires the right packaging and placement as well as the right message, tailored to a carefully identified target market.
Hummingbird Creative Group is a full-service marketing agency with extensive experience in market research and brand strategy development. They assist inventors with market research, competitive & pricing analysis, niche market opportunities, product naming, packaging, website design and promotional campaigns.
Textivia is a digital marketing firm in Raleigh, NC, offering custom web design and development, SEO, reputation management, social media and lead generation marketing services. They have served as an online marketing partner to hundreds of clients globally.
PartnerHere is a community platform designed to help business owners quickly find the talent and resources they need. Members of PartnerHere can find clients, freelance professionals, JV partners, employees and a variety of other resources.
Contract Manufacturer
Developing a great product is only half the battle. An invention is only viable if it can be efficiently manufactured at scale with an effective ramp-up strategy. In the early stages of product design and development, it is necessary to produce small batches of product (or even one unit at a time) as the process is refined and features are slowly improved. Contract manufacturing allows inventors to scale up production of new products in a cost-effective manner while minimizing risk. This is an area where Alotech has helped many clients.
Investor
New inventions almost always require significant up-front capital. Sometimes, inventors can pull together funds from their own savings and from the contributions of friends and family members who believe in their ideas. It is often necessary to seek additional funding from outside investors in order to purchase capital and inventory and to penetrate larger distribution channels. Banks are unwilling to loan money to startups that are deemed too risky, whereas investors characteristically have a higher risk tolerance.
Bay Capital Investment Partners is a boutique capital investment firm with investment experience across a wide range of industries including media, telecom, healthcare, software, information technology and manufacturing.
Patent & Licensing Attorney
Protecting intellectual property (IP) is a complex legal process, and it takes more than filing a patent. Patents offer a degree of protection against counterfeit or "knock-off" products, but a comprehensive strategy is required in order to fully protect the assets of a business.
NK Patent Law is a North Carolina based patent law firm that is focused on providing business focused advice with respect to patents, trademarks, and intellectual property matters. They have assisted businesses in a variety of technology sectors.
Licensing Specialist
Many types of inventions lend themselves to licensing as a scale-up strategy, which can accelerate the path to mass distribution for the right type of product. Licensing requires developing the right industry contacts with key manufacturing and distribution partners. A licensing specialist comes to the table with an established network of strategic connections and the expertise to identify and pitch ideal licensing partners.
Edison Nation has a variety of go-to market strategies to get new products on store shelves. They have extensive experience evaluating product ideas and pairing up inventors with licensing opportunities.
Federal Selling Group is a contract business development firm with extensive experience winning government contracts. They help growing companies expand their client bases. FSG can help develop key relationships, find the right opportunities, secure technical data packages, and prepare winning proposals.
The saying "It takes a village" applies to launching a new invention as well as parenting. Inventions are not born in a vacuum, and successful businesses do not come from the unassisted efforts of lone entrepreneurs in isolation. We strongly recommend finding great resources for inventors and consulting expert partners as soon as possible in the development of a new product, as this can eliminate wasted time and money while maximizing the potential for success.
If you have a new product or idea and would like to explore the possibility of partnering with Alotech's resources for inventors to bring it to the marketplace, contact us today.